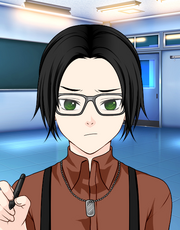 Akira Kato
is a character featured in
The New Killing Game SYOC
His title is Super High School Level Mathematician.
He murdered Kuu Hachimitsu in Chapter 3 while working as an accomplice for Kuro Hinori, before murdering Kuro too. Akira was found guilty in the class trial and was executed.
Appearance
Akira is 5 foot 9 inches and weighs 140lbs. He has very pale skin and an average build. He has straight black hair and green eyes beneath his trifocal glasses.
He dresses in a brown collared shirt with a metal necklace with different mathematical symbols, suspenders, black jeans and brown shoes.
Personality
Akira is self centred, stubborn, arrogant, cold, blunt, reserved. While other mean students tend to have a couple of redeeming factors, Akira has practically none.
History
Prior to Hopes Peak Academy
TBA
Prologue
TBA
Chapter 1: First Blood
TBA
Chapter 2: Trauma and Recovery
TBA
Chapter 3: Depression and Desperation
TBA
Execution
Main Article: Calculate This!
Relationships
TBA
Panic Talk Action Remarks
N/A
Trivia
Akira is the first murderer to feel no regret for his killing.
Akira is the first murderer to attack someone before his execution.
Akira is the first murderer in The New Killing Game SYOC to not use any Panic Talk Action Remarks.
Akira's execution is the first execution which was done to prevent a rule from being broken, as Akira was trying to kill Tomoyo and Ryuji.

In addition, his execution is the first one to take place in the courtroom.