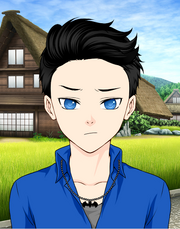 Hayato Kimura
is a character in
The New Killing Game SYOC
He has the title Super High School Level Ornithologist
In chapter 4, he and Kyoto Sakumi duelled to the death to allow the others to survive. Hayato came out as the winner, which made him the killer of the fourth trial, where he was caught and later executed by Monokuma.
Appearance
TBA
Personality
TBA
History
Prior to joining Hope's Peak Academy
TBA
Prologue
Hayato first appears in the prologue introducing himself to Ryuji Shido, but rudely pushes him aside when Ryuji says he has nothing to say about birds.
Chapter 1: First Blood
Fist Blood Part 1
TBA
First Blood Part 2
TBA
First Blood Part 3
TBA
First Blood Part 4
TBA
Chapter 2: Trauma and Recovery
Trauma and Recovery Part 1
TBA
Trauma and Recovery Part 2
TBA
Trauma and Recovery Part 3
TBA
Trauma and Recovery Part 4
TBA
Trauma and Recovery Part 5
TBA
Trauma and Recovery Part 6
TBA
Trauma and Recovery Part 7
TBA
Chapter 3: Depression and Desperation
Depression and Desperation Part 1
TBA
Depression and Desperation Part 2
TBA
Depression and Desperation Part 3
TBA
Depression and Desperation Part 4
TBA
Depression and Desperation Part 5
TBA
Chapter 4: Repair and Remember
Repair and Remember Part 1
TBA
Repair and Remember Part 2
TBA
Repair and Remember Part 3
TBA
Repair and Remember Part 4
TBA
Repair and Remember Part 5
TBA
Repair and Remember Part 6
TBA
Execution
Main Article: Bird Food
Relationships
Kuu Hachimitsu
TBA
Ryuji Shido
TBA
Naoki Kenshi
TBA
Trivia
TBA