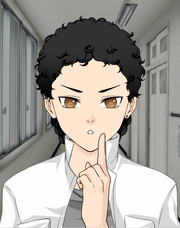 Kuro Hinori
(Full Name Kuro Hajime Hinori) is a character in
The New Killing Game SYOC
.
Kuro has the title Super High School Level Trafficker
He was murdered in chapter 3 alongside Kuu Hachimitsu by Akira Kato, who he had hired as an accomplice and planned to murder himself.
Appearance
Kuro's hair is kinda short, cut beneath his earlobes but above his shoulder blades, he combs his hair back and has it dyed raven black. His eyes are hazel.
Kuro wears standard grey-black jeans, a Bordeaux T-Shirt under an open white dress shirt. He has a celtic pendant and one raven pendant attached to the same cord, plenty of rings on each hand and a gold earring in his left lobe.
Personality
TBA
History
Prior To Hope's Peak Academy
TBA
Prologue
TBA
Chapter 1: First Blood
TBA
Chapter 2: Trauma and Recovery
TBA
Chapter 3: Depression and Desperation
TBA
Relationships
TBA
Trivia
TBA