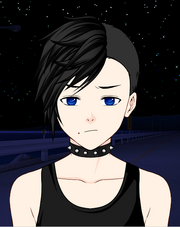 Kyoto Sakumi
is one of the characters in
The New Killing Game SYOC
.
He has the title Super High School Level Goth
In Chapter 4, Kyoto and Hayato Kimura dueled to the death to allow the others to survive. Kyoto died and became the fourth victim of the killing game.
Appearance
Kyoto has long black hair with half of it shaved off, blue eyes and a pierced lower lip. He also has a flame tattoo up his right arm. He wears a black tank top and has a spiked bracelet on his right wrist. He also wears black cargo pants and brown loafers.
Personality
He's calm and typically stays in the background. He just doesn't really care about things.
History
Prior to joining Hope's Peak Academy
TBA
Prologue
TBA
Chapter 1: First Blood
Fist Blood Part 1
TBA
First Blood Part 2
TBA
First Blood Part 3
TBA
First Blood Part 4
TBA
Chapter 2: Trauma and Recovery
Trauma and Recovery Part 1
TBA
Trauma and Recovery Part 2
TBA
Trauma and Recovery Part 3
TBA
Trauma and Recovery Part 4
TBA
Trauma and Recovery Part 5
TBA
Trauma and Recovery Part 6
TBA
Trauma and Recovery Part 7
TBA
Chapter 3: Depression and Desperation
Depression and Desperation Part 1
TBA
Depression and Desperation Part 2
TBA
Depression and Desperation Part 3
TBA
Depression and Desperation Part 4
TBA
Depression and Desperation Part 5
TBA
Chapter 4: Repair and Remember
Repair and Remember Part 1
TBA
Repair and Remember Part 2
TBA
Repair and Remember Part 3
TBA
Repair and Remember Part 4
TBA
Repair and Remember Part 5
TBA
Repair and Remember Part 6
TBA
Relationships
Haruka Saimon
TBA
Ryuji Shido
TBA
Tomoyo Chino
TBA
Trivia
TBA